Discover more from My Sweet Dumb Brain
A newsletter about facing life's ups and downs, all while being kind to yourself.
Over 13,000 subscribers
You don't have to find meaning in this
Cheering for and helping out others is great. Feeling sad is good, too.
A representative from my alma mater was in town. We'd made arrangements to meet at a brewery to discuss creating a scholarship in my late husband's name. I dragged a friend along because I wasn't sure what to expect or how I'd handle the conversation. I'm glad I made that choice.
"That felt bad, right?" I asked my friend afterward.
"It wasn't ... well, yeah, it didn't seem very ... heartfelt," he said, cautiously. 
I started to cry out of frustration. This was exactly why he was being cautious with his words.
The meeting wasn't close to heartfelt. We spent very little time talking about Jamie. The few times the representative said his name, she'd flip to the first page in her folder, making sure she got it right. I didn't get an opportunity to share that Jamie and I met on campus, what people missed most about him, or how the brewery was one of his favorite spots. The one piece of information I was asked for was how he died—after collapsing during a half marathon—to which the representative gasped and talked about how that happened during a race at Disney World of all places, "Can you imagine?! That's so horrible!"
Yes, I can imagine. That's why we're here, having this deeply uncomfortable encounter.
The rest of the meeting was spent going over logistics: How much money I'd need to donate to create a scholarship in—checks notes—Jamie's name; how his name would be one of hundreds in a drop-down list of options on the financial aid website; how, no, I wouldn't have much space to share his personal story; and how, if I was ready, I could go ahead and fill in my credit card information.
I didn't provide my credit card details, or ever create a memorial scholarship at our alma mater. The university still sends me letters sometimes, holding out hope that I'll change my mind.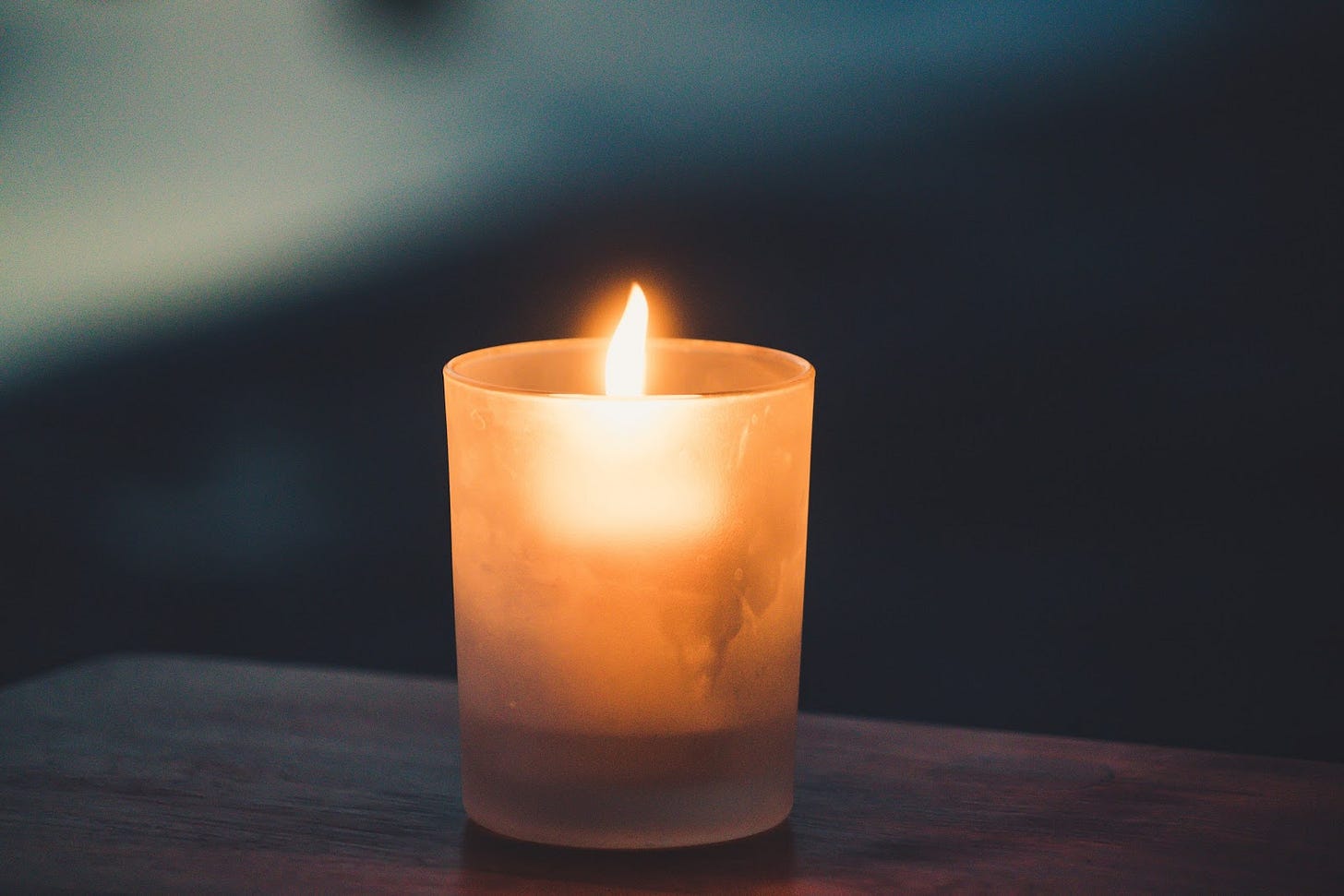 Last week, I wrote about the five stages of grief: denial, anger, bargaining, depression, and acceptance. I said that there's no one set way to approach grief, and that, if your journey is anything like mine, you'll bounce around the stages in a dizzying and unclear path. I tried to offer a bit of reassurance that, with time, the path gets a little less dizzying and a little more clear.
I didn't, however, mention the final stage: Meaning.
David Kessler introduced the sixth stage of grief in 2019, and I'm grateful he did. Finding meaning has been an important part of how I've made sense of loved ones' deaths. Like acceptance, meaning is something I wanted to rush toward—bypassing all of the other difficult stages of grief. I desperately wanted to find meaning in the fact that my husband died, just like I sought that same assurance after my dad and grandparents passed away years before.
That's what brought me to that brewery, nine months after Jamie collapsed, to discuss a scholarship that I wasn't entirely sold on.
Lately I've been searching for meaning as I learn how to navigate a world that's been drastically altered by the coronavirus crisis. I'm not the only one. People are latching onto signs of hope, noting moments of personal growth, predicting ways that systems might be forever improved, and quickly mobilizing to offer help. We are writing think pieces; inventing social media challenges; finding remote workarounds for most forms of entertainment and connection; and documenting our attempts at bread-making, puzzle-completing, and scallion-growing.
Here's how Kessler summarized the response in an interview:
I believe we will find meaning in [the pandemic]. I've been honored that Elisabeth Kübler-Ross's family has given me permission to add a sixth stage to grief: Meaning. I had talked to Elisabeth quite a bit about what came after acceptance. I did not want to stop at acceptance when I experienced some personal grief. I wanted meaning in those darkest hours. And I do believe we find light in those times. Even now people are realizing they can connect through technology. They are not as remote as they thought. They are realizing they can use their phones for long conversations. They're appreciating walks. I believe we will continue to find meaning now and when this is over.
Seeing all the ways we're finding meaning in this crisis is inspiring and encouraging—proof of how resilient we are. It's also a bit exhausting. Because the coronavirus pandemic is a collective experience, the grief we're encountering is also shared. But we do not all face grief, nor stress, nor trauma, nor sadness in the same way. Likewise, there isn't one way to find meaning in all of this—nor do we have to.
Still, there's an unspoken pressure to do something with this time, to find meaning through personal growth or altruistic acts. I'm feeling especially susceptible to it lately. The internet is full of reminders of how you could be creating something great under self quarantine, and how, no matter how hard you try, someone is doing something even more helpful than you. (The day after I donated $25 to Feeding Tampa Bay, Tom Brady and Gisele Bündchen gave enough to the same organization to cover 750,000 meals. Well, then!)
Instead of blindly charging ahead with various projects and do-good activities, I've been trying to explore my motivation behind doing certain things. Am I organizing my closet because I want to, or because I'm trying to drown out my inner monologue? Am I doing something to help others because it makes me feel good, or because I feel guilty? Am I writing essays like these because they're helping me to process things, or because I want to prove my worth?
Almost immediately after Jamie died, I felt intense (self-imposed) pressure to do meaningful things. I wanted to prove that his too-short life was worth something. Moreso, I wanted to show that my life, which for some reason got to be longer than his, wasn't being wasted. What I didn't realize then was that I needed to allow myself to fall apart—to grieve his death fully—before I could build something new.
I did ultimately create a scholarship in Jamie's honor. The Jamie Hawkins-Gaar Memorial Scholarship supports diversity in improv, something that he cared about passionately. It took me a while to find a solution that worked, and I feel great about this one. I've also channeled my grief into this newsletter—a creative outlet I didn't start until 19 months after Jamie died, and one that, arguably, I didn't hit my stride with until this January, nearly three years after his death. My Sweet Dumb Brain has helped me sort through feelings, supported others in their losses, and enabled a growing and supportive community. It feels meaningful, and I hope that Jamie would agree.
There is no timeline for grief. But there is a risk in trying to rush things. There's nothing wrong with putting teddy bears in windows or cheering for medical workers every night. Those things are wonderful and uplifting, and give people hope when they need it. At the same time, we don't need to force significance when it may not yet exist. Instead of panic-baking yet another loaf of bread, we can allow ourselves to sit in the kitchen and cry. Instead of furiously cleaning our homes, we can actually consider the answer to, "How are you?" Instead of frantically Googling ways to help others, we can ask ourselves what we need right now.
I wrote this essay because I needed it. When Jamie died, I made the mistake of busying myself too much and trying too hard to create meaning before it existed. I'm falling into similar patterns again.
So here's the advice I needed to hear back then, and could use once more: It's good to feel sad—don't push it away. Some of your most hopeless moments will make the future bright moments in life shine even brighter. It's normal to make mistakes—this is all new! There is no one right way to face this, and owning your missteps will lead to some great lessons and stories later on. It is ok—it's healthy, even—to sit with the discomfort and the unknown of this moment. Slowing down can be one of the scariest things to do when you're grieving, but it will ultimately bring you deep and wonderful growth.
You will find meaning in this. But don't feel like you have to rush it.
xoxo,
KHG
p.s. How are you keeping busy these days? Have you felt pressure to be especially productive or helpful? I'd love to hear your thoughts on how you're filling your time and what happens when you slow down. There's no right or wrong way to do things (and no judgment!), and it's always helpful to hear different perspectives. Share your thoughts on today's essay by replying to this message, sending me an email, or posting in the comments. I'll share your responses in Thursday's subscriber-only newsletter.
---
This newsletter is written by Katie Hawkins-Gaar. It's edited by Rebecca Coates, who felt a big sense of relief after reading this essay. Photo by Paolo Nicolello on Unsplash.