Discover more from My Sweet Dumb Brain
A newsletter about facing life's ups and downs, all while being kind to yourself.
Over 13,000 subscribers
What to expect when everything is unexpected
Nothing could have prepared Ayana Lage for this year.
This has been an unexpected year for all of us. That's especially true for Ayana Lage.
After losing her first pregnancy via miscarriage, Ayana was thrilled to learn late last December that she was pregnant again. She entered 2020 with high hopes and big plans for the year ahead.
Ayana, a lifestyle blogger living in Tampa, is well aware that you can't control how things turn out. But nothing could prepare her for being pregnant during a global pandemic. And while Ayana already had a decent following online, she also couldn't predict that her social media presence would skyrocket in the midst of nationwide protests in support of Black lives and against police brutality.
It's a lot to adjust to, but Ayana has managed to do just that—while also continuing to document her life with openness and honesty.
I first started following Ayana on Instagram around a year ago, thanks to the suggestion of a mutual friend. "Ayana's great," she said. "She's been posting about grief lately, so you'll probably like it." (What can I say? I have fun interests!)
I was skeptical about following Ayana at first—social media influencer-types aren't my favorites—but I'm so glad I did. I mourned with her as she spoke out about her miscarriage, celebrated as she announced her second pregnancy, and have learned so much as she's shared about her experience as a Black woman in America.
And now I'm thrilled to introduce you to Ayana. Her baby girl is due on September 1, and I was lucky to connect with her before then. Ayana and I spoke over the phone, and our conversation has been lightly edited for length and clarity. I hope you enjoy our Q&A. It was a true joy for me!
xoxo,
KHG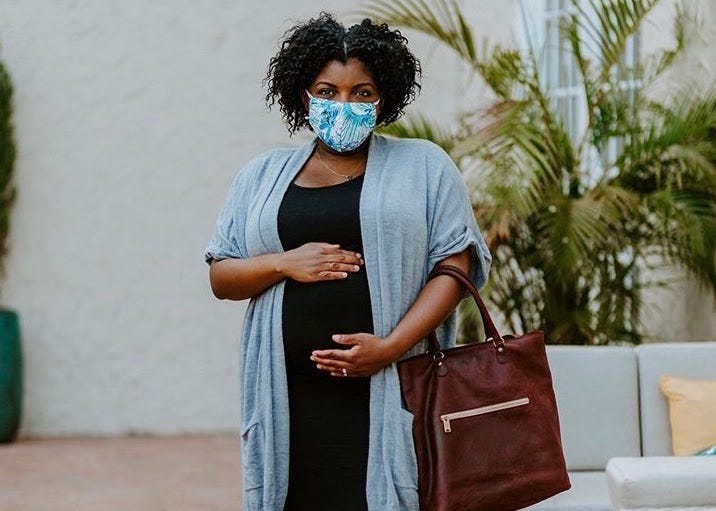 KHG: How are you feeling mentally, now that your due date is getting so close?
AL: It depends on the day. One of my friends told me that she fully believes that women feel so physically miserable at the end of pregnancy so that they're ready to not be pregnant anymore—it outweighs literally any other fears you might have about labor. I was skeptical, but now I can totally see that.
I'm really excited, but I also get freaked out thinking about being responsible for another human being for the rest of her life. When I really think about it, I'm like, This baby inside of me—who's kicking me right now—is a human child who I will have to take care of. It's trippy!
I've found myself getting wrapped up in my pregnancy and thinking that I just have to make it through October. And then it hits me that birth is just the beginning.
Right? And then there's a whole-ass baby waiting for you at the end of it! I know. 
It's weird, but I feel like being at home so much has given me more time to prepare. I think I feel more qualified [to become a mom] than I would have if life were normal—if that makes sense. There's so much free time in quarantine. So much! There's time to learn about pregnancy and labor and babies. Eventually I've hit a point where I'm like, OK, I think I can do this.
I totally get that. It's a silver lining of this surreal time. What are some of the downsides of being pregnant in a pandemic?
The hardest thing for me has been mentally preparing for the fact that, once she's born, things won't be back to normal. My family is really close, [my husband] Vagner's family lives locally as well, and we have a ton of friends here. I always pictured that when the baby is born, everyone will get to meet the baby, we'd take the baby everywhere—she would just sort of seamlessly fit into our existing life. And now I'm preparing for tough conversations with people: If you want to meet the baby and you have not quarantined, that's not going to happen. It just feels very grim.
I have mourned things like not having a traditional baby shower, and Vagner not being able to come to prenatal appointments. That said, I do think it helps that this isn't my first pregnancy—[although] it's the first one that I've carried to term. It's not like I had all of these expectations about what pregnancy was going to be, so I feel like I was able to adapt pretty quickly. 
How did the loss of your first pregnancy affect how you approached this one?
At the beginning of the pandemic, I was really pissed knowing that, had the first pregnancy been a healthy one, I would have had a completely "uneventful" pregnancy—just as far as the world is concerned. I would have given birth in 2019; it would have been before all of this.
But in general, I think that having gone through the miscarriage has definitely made me stop to consider the beauty of having a healthy pregnancy, and a healthy baby. It's made me appreciate the mundane things that I would have taken for granted otherwise.
I'm a total control freak, and with my first pregnancy, I was convinced something was going to go wrong. As a result, I was following every rule to the letter—like not drinking any caffeine, for example. I had this mentality like, If I do everything right, then the baby is going to be OK. I probably took it to a bit of an unhealthy level; I was so worried that something might go wrong. Then when something did go wrong, I didn't feel any better about the fact that I had been so obsessed with following every single rule. 
I feel like I have to add the disclaimer that I'm definitely not going out and doing drugs every weekend! But if I've craved a Publix sub during this pregnancy, I get the sub. It's just more liberating this way.
It's good to be aware of the risks, and you obviously don't want to do anything to endanger your baby. But I've accepted that, at the end of the day, there's so much that's out of our control. 
I love that. It's a good life motto: Get the sub.
Yes, totally! 
You've been vocal about your miscarriage, and have become an advocate for pregnancy loss awareness. I feel like so many people can isolate themselves after a devastating experience like that. What did you learn from being open and sharing your story?
After I wrote about the miscarriage and shared about it, I got messages from women who said they wished they had been brave enough to do the same thing after their losses. I understood it was meant as a compliment, but it also kind of bothered me. I tried to tell people that I don't think it was bravery on my part; it's not like I am so much more courageous than other women who have experienced the same thing. I just think that I'm extroverted by nature—I tend to share a lot—and I was already used to documenting my life online, so it felt normal to me.
When I first shared about miscarrying, it was out of necessity because we'd already announced the pregnancy. I announced at 10 weeks, and then I miscarried at 13. We thought we were in the safe zone; the doctor had told us, "We heard a heartbeat. There's not much that can happen between now and 12 weeks that would worry me." And then we lost the baby.
Everyone knew that I was pregnant, so I was desperate to tell everyone the news as soon as possible. I didn't want anyone asking me about the baby, didn't want anyone texting me, "How are you feeling?" I just needed to get it out there.
And then I got so much support—people were so amazing—so I decided to just keep sharing.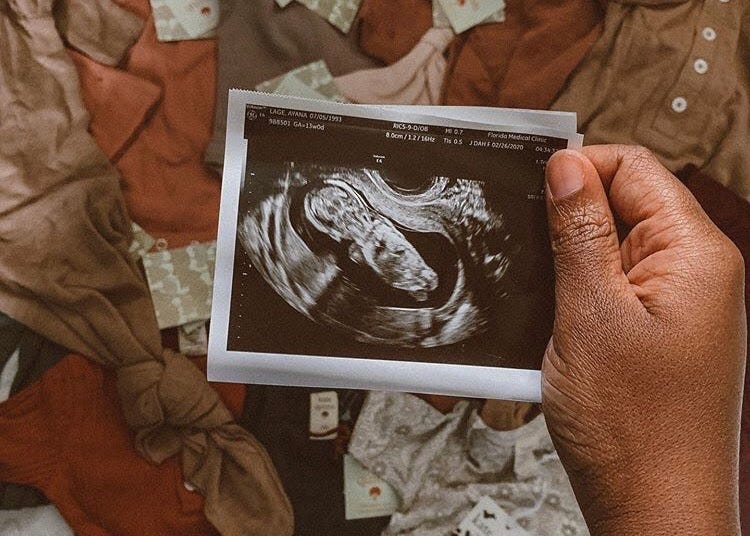 This has been a crazy year. Not only are you pregnant—and not only are you pregnant in a pandemic—but your Instagram account also blew up after George Floyd's death and the renewed interest and support of the Black Lives Matter movement. You had a few videos go viral, and now have more than 55K followers. What has that experience been like for you?
June was honestly kind of a blur, especially with all of this happening during pregnancy and during a pandemic. Depending on the day, it was either overwhelming in a good way or overwhelming in a bad way. [The sharp increase in followers] was definitely unexpected. Especially at the beginning, I felt suspicious, because it all felt unsustainable. I was fully convinced that I was going to gain this huge audience and then have them all disappear once the "viral moment" died down. 
I've also had conflicting emotions because I do make money from my blog and my Instagram. So, of course—because I always find a way to blame myself and overthink—I couldn't help but wonder, am I, in a roundabout way, profiting from the tragic loss of Black lives? I've had to unpack all of that.
I try to remind myself that I did not put myself out there and say, I'm going to go viral today. Honestly, if that was something you could do, I would have done it a lot sooner! Getting all of these followers over the past month wasn't this calculated, intentional thing on my part. 
As cliché as it is, I've just been trying to take it day by day. It's been wild.
I've watched from afar and while I've been in awe of how you were handling all of the attention so smartly and graciously in the moment, I've also been low-key worried for you. 
Oh, I think everyone was! I literally got thousands of messages at the beginning of everything, and Vagner was like, "You don't have to respond to all of these people." Even my mom was like, "Ayana, I think once you reach a certain point, people don't even expect a response." But I do not feel like I'm at that point, so I tried to go through and respond to everyone!
I've slept terribly throughout the pregnancy, but I especially did when [the protests] were at their height. I think it was everything that was happening in America, combined with me being overwhelmed by notifications, combined with pregnancy—I just was not sleeping, and I kept thinking that this is not sustainable. I definitely had to tone it down and moderate the amount of time I spent online.
Do you ever just want to take a break from social media? What do you do when you feel that way?
My freelance side gig, along with writing, is social media management. So I think I've accepted that I will never escape. I'm thinking about taking a few weeks off for maternity leave. So maybe then? I feel like overall, unfortunately, I'm just in too deep now. I don't really log off!
If I'm feeling burnt out, it's usually from constantly engaging with people. So I've learned to be OK about not responding to every message I get, and instead just letting myself enjoy scrolling and looking at my friends' posts—you know, what Instagram was always supposed to be. I've learned how to take pressure off of myself.
Total admission: I'm not the biggest fan of influencers—
Oh, I think no one is! It's totally fine. It's a terrible, terrible industry!
But I love following you! I'm curious about how you strike the balance between posting beautiful photos and much-needed realness in the captions, and whether that's ever hard to do? I feel like I would get too into my head about all of it.
The other day, Vagner was on a work call, and I overheard him say, "Oh yeah, my wife is a freelancer and she's an Instagram influencer." And I was wildly miming from the other side of the office, Do not tell any of your colleagues that you're married to an Instagram influencer! I know how it sounds!
Before I started my blog, I had this idea that all influencers were thin, white women with designer purses. Not that there's anything wrong with that demographic, but that's all that I consumed and saw, so I was very skeptical of it. 
It's still a work in progress, but instead of trying to fit any mold or overthink it, I am going to simply share pictures that I'm proud of and share my thoughts on random things. So far, that's been effective for me.
I used to really get into my head about even being called an "influencer," because I know the stereotype. But then I think, maybe people will be pleasantly surprised when they look me up—after rolling their eyes, of course!
Last question: Before you know it, you'll be bringing a baby girl into the world. What are you most excited about?
I feel so clueless. A couple people have asked me this, and I'm excited just for her to be here and get to know her. I don't know if you're this way, but right now when I picture her, there's a question mark where her face should be. 
I have so many questions: What does she look like? Is she going to be chill? Is she going to be absolutely insane? I'm just really excited about all of it.
Vagner and I have talked about how it might be a blessing in disguise that our hospital isn't allowing any visitors, because I think it will be really cool for the first day or two for it to just be us and her—and getting to know her. I just keep thinking about meeting her and how unreal it's all going to feel. 
Big thanks to Ayana Lage for her candor, humor, and generosity. Be sure to follow her on Instagram at @ayanagabriellelage, and check out her blog, XO, Ayana.
---
It's complicated
Readers, now it's time for me to ask you some questions!
What's your relationship like with social media these days? Are you feeling grateful for social media's ability to keep us connected from afar, or resentful of how much time you're spending scrolling on your phone? Are there some apps that bring you joy while others make you feel anxious? Or are you currently in the midst of a social media hiatus?
I want to hear it all! Tell me about how social media is affecting you lately, and what screen-time habits—if any—you've adopted over the past few months.
Share your stories by replying to this email, leaving a comment, or sending me a message. I'll compile some of your best replies in Thursday's subscriber-only newsletter. (Reminder: Subscriptions are only $35/year or $5/month!) I can't wait to read your thoughts.
---
My Sweet Dumb Brain is written by Katie Hawkins-Gaar. It's edited by Rebecca Coates, who adores Ayana's authenticity, and wishes her and Vagner all the best on the wild ride that is parenthood!
Want to support this newsletter? You can subscribe, tell a friend about it, send some monetary gratitude via Venmo (@Katie-Hawkins-Gaar), or hit the heart button at the top of this post. It all helps!