Discover more from My Sweet Dumb Brain
A newsletter about facing life's ups and downs, all while being kind to yourself.
Over 13,000 subscribers
The would-have-been past and should-be future
What if we chose to live in the right-now instead?
My calendar became an emotional minefield after my husband Jamie died. It was packed with reminders of trips we would have taken, weddings we would have attended, shows we would have gone to, and anniversaries and birthdays we would have celebrated. Watching those dates come and go was deeply painful.
I didn't delete those reminders from my calendar—to me, they felt like proof of the life we shared—but I did neglect them. I cancelled vacations, skipped out on events, and ignored the things worth celebrating. Instead of living life, I lamented the life I believed I should have been living.
Now we're all facing calendars filled with would-have-been reminders. In a non-pandemic universe, I would have introduced my partner Billy to extended relatives I seldom get to see. I would have spent a long weekend at a cabin celebrating another friendversary. I would have traveled to Colorado with my family, missed Billy while he was away on tour, and taught a weeklong leadership academy for women working in journalism.
None of those things happened as planned. In their absence, I'm finding myself returning to a lesson I learned as a widow: I have to stop living in an alternate timeline and start living in the present. Otherwise, I'll miss all the good things happening around me.
That means keeping a mental list of all of the plans that have been cancelled, while also doing my best to note and appreciate the lovely things that are happening.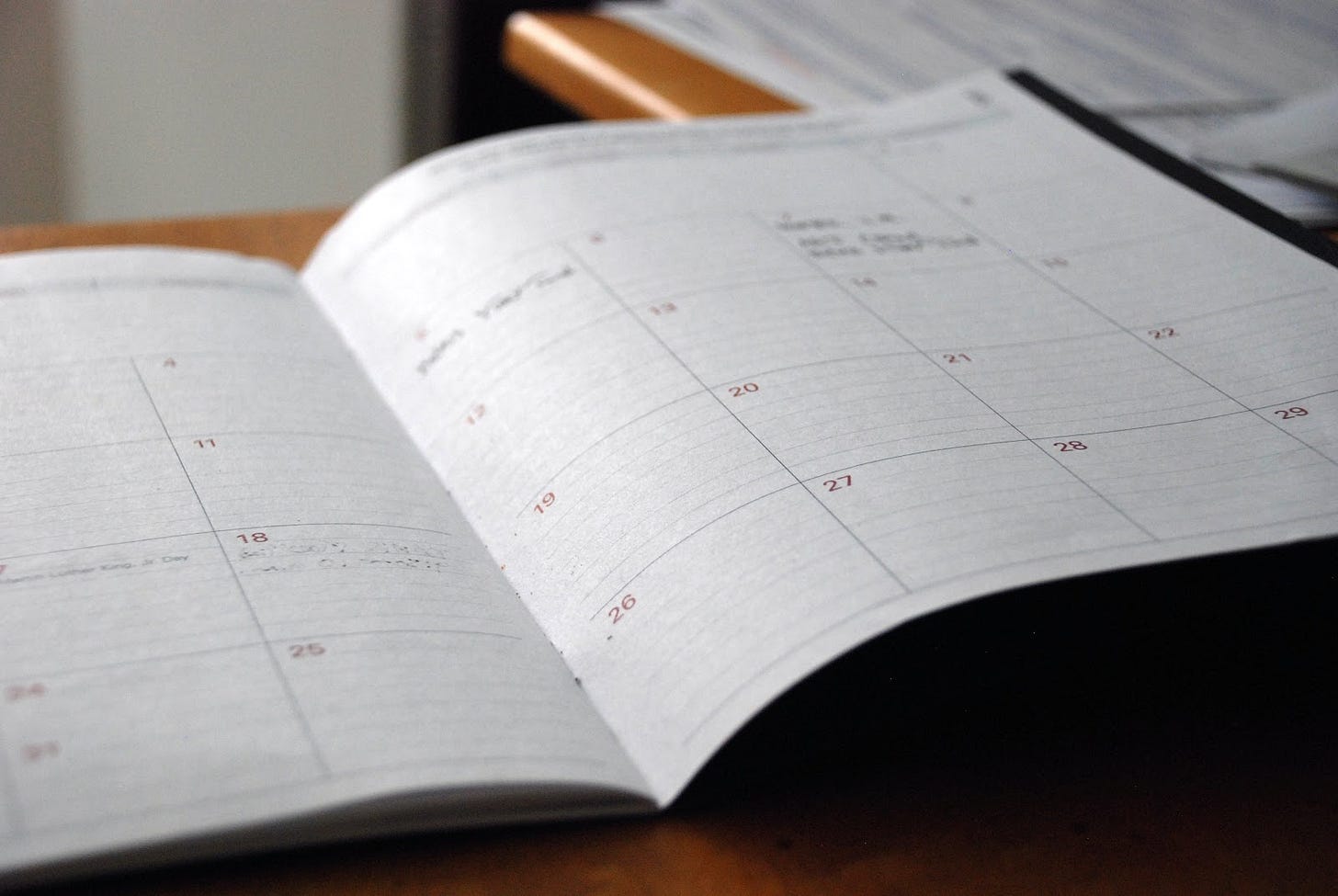 After Jamie died, I spent endless amounts of time thinking about what should have been, and very little time focusing on what was. But that's not the only reason I missed out on things; I was also trying to fast-forward through life. I desperately wanted to get through that painful time, even if I couldn't imagine what the future held for me.
Lately, whenever I resort to panic-scrolling—which is far more often than I'd like to admit—there's usually one underlying question propelling my internet search: When will things get back to normal? I want to know when I can safely return to restaurants and shops, when large gatherings will resume, when I will feel comfortable traveling on planes, and when COVID will no longer feel like such a prominent threat.
I scroll and scroll and scroll, looking for an answer that doesn't yet exist. Sometimes I'll discover an article that gives me a bit of reassurance. Other times, I'll find worst-case scenarios that cause me to spiral. Rarely do I consider the fact that by scrolling and stressing about the future, I'm missing out on the present.
As it turns out, there are a surprising number of present moments to savor.
This strange period has given me time to tackle long-neglected house projects and appreciate my home in a brand new way. It's allowed me to laugh and relax and connect with Billy more than ever. It's given me evenings filled with virtual game nights, afternoons spent working on wonderfully tedious puzzles, and days when I've felt bored—something I haven't experienced in years. It's provided many sweet days with our sweet dog, and the eventual stillness of his absence. It's offered me the opportunity to take long walks, catch up with friends over the phone, and cook many meals. It's prompted me to reevaluate what's most important in life.
I'm privileged to have so many moments worth appreciating lately—not everyone is experiencing these benefits. It would be short-sighted of me to ignore those blessings.
In Everything Happens for a Reason and Other Lies I've Loved, Kate Bowler writes about her experiences after being diagnosed with stage IV cancer at age 35. As she sits through endless appointments with specialists, thinks about what will happen to her husband and son, and wrestles with her religious beliefs, Bowler realizes that her mind is constantly preoccupied with possible futures.
"If I were to describe a sin for what that was—for how I lived—I would not say that it was simply that I didn't stop to smell the roses," she writes. "It was the sin of arrogance, of becoming impervious to life itself. I failed to love what was present and decided to love what was possible instead."
Bowler determines that her challenge was to "learn to live in ordinary time."
That's true for all of us. Learning to live in ordinary time is a challenge I faced back in 2017, and it's something I'm confronting again. Despite how un-ordinary this period might seem and how many frustrations it holds, it is happening. It is life. It is full of lessons and surprises.
I'm trying to loosen my grip on the would-have-been past and stop fixating on the should-be future. I'm trying to live in and love the right-now. I hope you are too.
xoxo,
KHG
---
It's your turn
What have you missed out on these past few weeks? What have you done instead? I'd love to hear about your would-have-beens and your right-nows—and any other lessons you've learned from this time. Share your stories by replying to this email, leaving a comment, or sending me a message. I'll compile some of your best replies in Thursday's subscriber-only newsletter.
---
My Sweet Dumb Brain is written by Katie Hawkins-Gaar. It's edited by Rebecca Coates, who is back with her smart essay feedback and suggestions! I missed her so much. Photo by Eric Rothermel on Unsplash.