Discover more from My Sweet Dumb Brain
A newsletter about facing life's ups and downs, all while being kind to yourself.
Over 14,000 subscribers
Something to help you grow 🌱
Introducing the Treat Your Future Self workbook!
A couple of weeks ago, I had the conversation with my therapist I've envisioned for a long time. I told her I'm ready to take a break from therapy. 
This is a big milestone for me. I started seeing Dr. B in November 2016, when I was in the midst of a bout of depression, fueled by a mix of burnout, adoption anxiety, and post-election sadness. We were making relatively quick progress, and I think we both anticipated that our sessions would only last a few months. Then Jamie died, and everything changed. Dr. B has been a staple in my life since then.
Three years later, I feel ready to stand on my own for a while. I've done the hard work of emotional processing over the past few years, and now know how to respond to anxiety- and grief-inducing situations better than I ever have before.
That's not to say that I feel completely confident in consistently regulating my emotions or choosing to do the things that benefit me most. During our break-up conversation, I told Dr. B that I wish I had a checklist of items that make me feel calmer and more focused, and of the things that tend to send me into a self-destructive spiral. In other words, an easy-to-follow reference to guide me on the toughest days when my sweet dumb brain can't make the wisest choices on its own.
"Why don't you create one?" she asked.
So I did. I started a list of simple things that always help to lift my spirits, like drinking water and getting outside. Then, I began listing the things that I self-soothe with, but later regret, like spending too much time on social media or relaxing with too much wine.
Those lists gave way to curiosity around how I've learned what helps and what hurts. I started to explore the concept of treating your future self. Then, inspiration struck. Before I knew it, I was furiously making an outline of self-care questions and prompts, and texting friends to get their feedback on a seedling of an idea. And now, I'm here to share that idea in its fully bloomed form.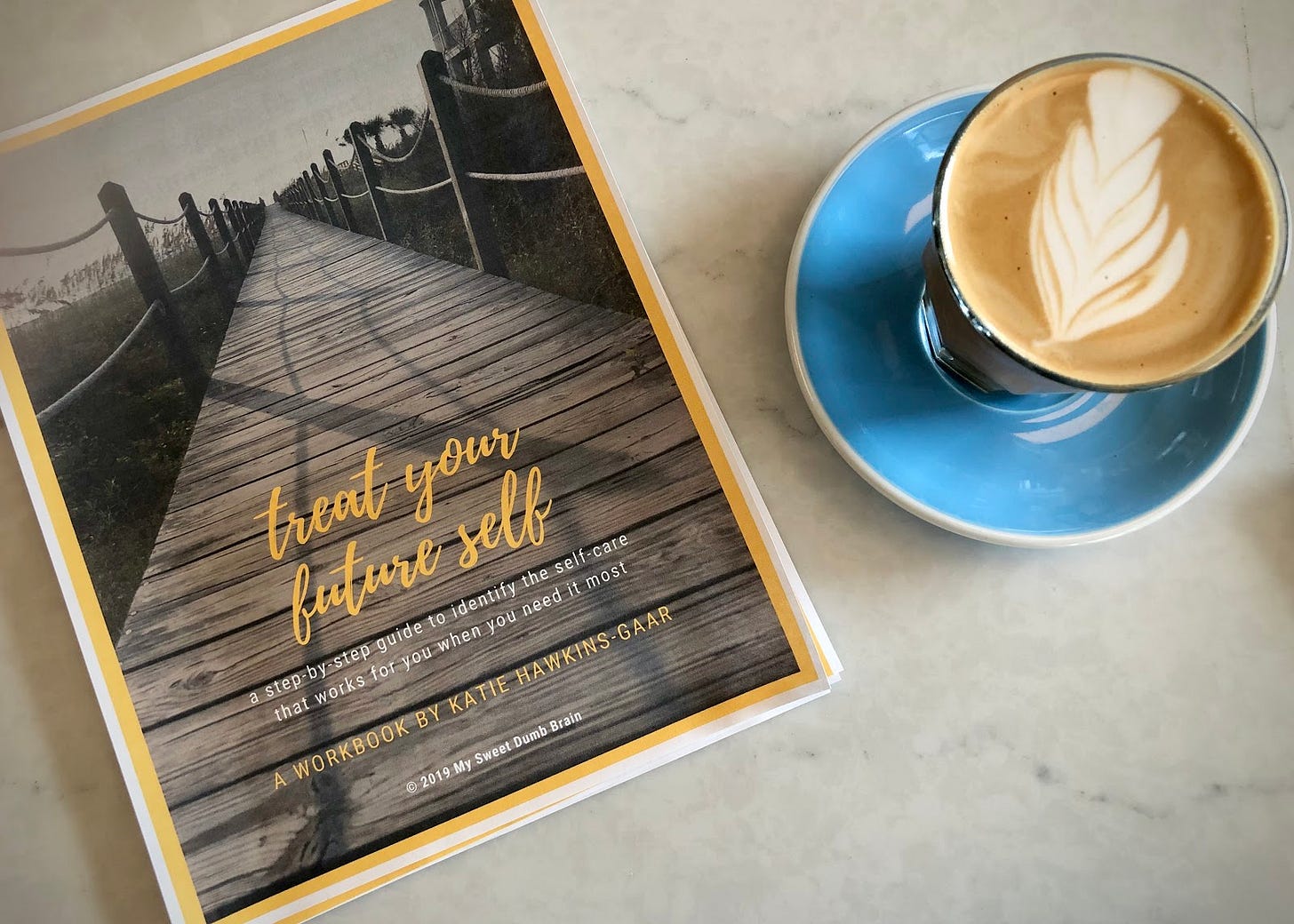 I created a free workbook to help you figure out the self-care that works best for you!
This workbook isn't a substitute for therapy (nor am I a professional therapist!), but it will help you identify things and activities that make you feel better, along with what makes you feel worse. It offers up a few different ways to look at self-care and show kindness to yourself — and it comes with a giant list of self-care-related resources.
This is the first time I've created a workbook, and I'm proud of it! I've been thinking about ways to give back to My Sweet Dumb Brain readers, and this is a happy solution — one I'd like to do more of in 2020. Putting together this workbook was fun and creatively fulfilling, and I hope folks have equal amounts of enjoyment completing it. 
You can download the workbook, fill it out, and share it with your friends and accountability buddies. You can link directly to the workbook or forward this newsletter. And if you share your workbook on social media, please tag me @katiehawk. I'd be thrilled to see your progress!
I always relish the opportunity for self-reflection at the end of a year, and this seems like a good way to do just that. Here's to future you and future smart self-care choices in 2020. ✨
xoxo,
KHG
p.s. HUGE thanks to the paying subscribers of this newsletter! Their financial support has given me the time (and confidence) I need to make resources like this self-care workbook. Please consider becoming a subscriber, or, if you'd like to send a couple bucks my way to say thanks via Vemno (@Katie-Hawkins-Gaar) or PayPal (katie.hawkinsgaar@gmail.com), that'd be much appreciated, too.
---
Good job, brain
I'm reading: "Red, White and Royal Blue," by Casey McQuiston. Speaking of self-care, this book is exactly the fun and light read that my brain needs right now. This fictional romance centers around Alex Claremont-Diaz, the handsome son of the U.S. president, and British royalty, Prince Henry. It's just as delightful as it sounds.
I'm inspired by: The mini-break I'm taking from social media. I'm spending much less time on Instagram lately and, while it feels a little weird to not know what's going on in friends' lives, I'm thoroughly enjoying the benefits of more time to myself and less time comparing myself to others.
I'm aiming to: End 2019 with a slightly slower pace than the rest of the year. Heading into 2020 with a reasonable amount of work on my plate feels like a good way to start anew.
Additional resources
For your sweet dumb brain
Block off some time this month to fill out that workbook! It's a gift to future you.
---
This newsletter is written by Katie Hawkins-Gaar. It's edited by Rebecca Coates, whom I'm planning more Google Hangout dates with. Thanks, workbook, for helping me realize that seeing her face more often lifts my spirits!