Discover more from My Sweet Dumb Brain
A newsletter about facing life's ups and downs, all while being kind to yourself.
Over 14,000 subscribers
Impostor syndrome's a real bitch
A message from our editor!
We're turning the tables, y'all! Today's newsletter is written and curated by Rebecca Coates, who usually edits My Sweet Dumb Brain. Katie is in the editing seat this week. Enjoy!
---
When Katie asked that I join her on this journey several weeks ago, I'll admit that although I was honored and thrilled that she thought of me, I hesitated in accepting the role.

For starters, professionally speaking, I'm just ... not. I'm a stay-at-home mom to a charming, but challenging toddler. I sell vintage clothing on Etsy (read: a hobby that mostly pays for itself). I often fancy myself the unofficial therapist to my friends — and no, I don't have any credentials whatsoever. I'm just an empathetic listener who sometimes gives solid advice!

When I think of the person Katie should entrust with producing this meaningful passion project, I imagine someone with a much more impressive resume than my own.

So, why would she want me?

When I graduated high school, I dreamt of living in New York. I saw myself as a woman with an enviable life, independent and cool, writing and editing for magazines, or working her way up the ranks in a publishing house. This, I told myself, was my future.

Enter depression and anxiety during my late teens/early twenties. Although I had always been an exceptional student with promise and talent, the self-sabotaging effects of my mental health derailed the transition from student to working adult in a way I had never expected. Instead of establishing the exciting, fabulous career-driven life I imagined for myself only years before, I went from being a summa cum laude college graduate to an adult with a string of under-achieving and under-stimulating occupations that I found myself struggling to maintain. All because my not-so-sweet, dumb brain told me I didn't deserve (nor could possibly handle!) a "real job."

Impostor syndrome has been a very real player in my life's trajectory thus far. This is not where I'll talk about regrets or "should" on myself; I'm pretty pleased on how far I've come, and with where I've landed. I never achieved a career beyond a four-year, part-time gig in online marketing and communications, but I did at least get to feel proud of and challenged by my work — and I was okay with that!

Then, I became a mother. And, in just days from now, I will do so for the second time.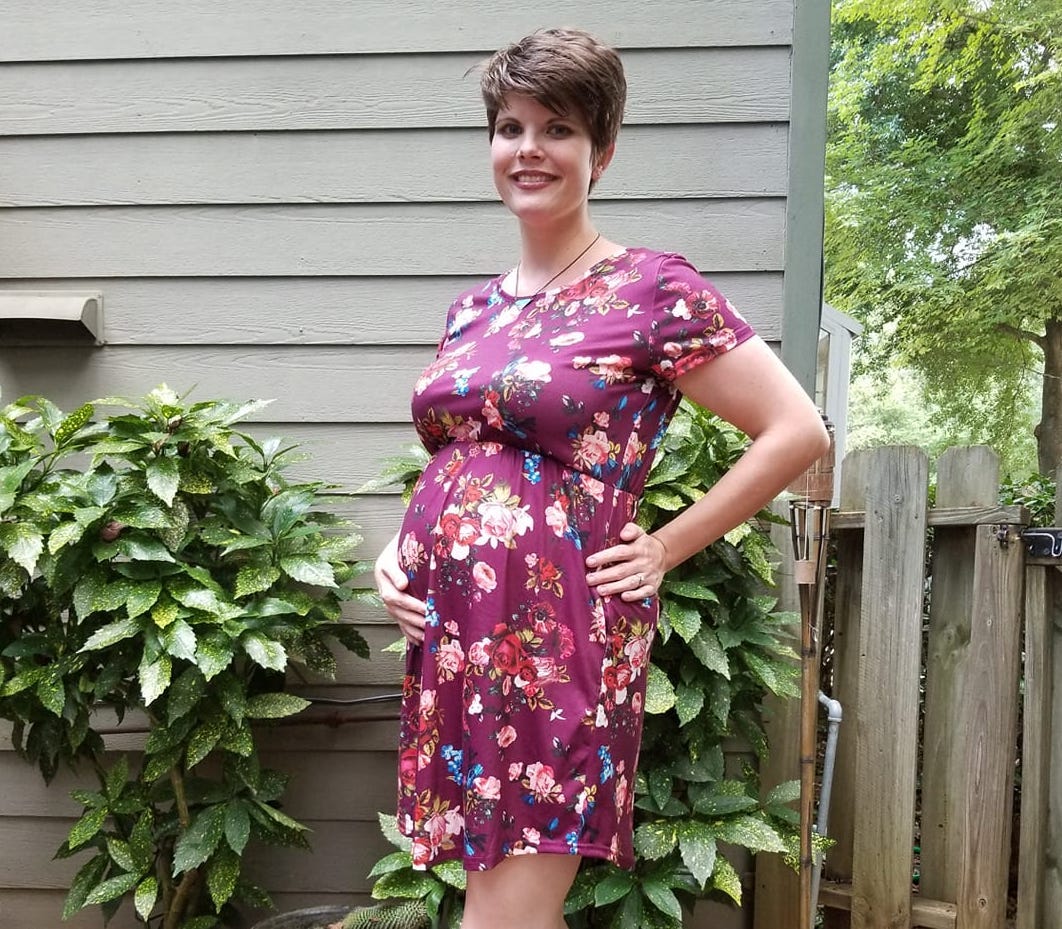 "Motherhood is the most rewarding job I've ever had," countless moms say. "It's also the hardest." I'm not about to refute that. The clichéd adages come from a base truth. However, compared to the NYC fantasy life 17-year-old me knew I would have ... well, I never saw this stay-at-home-mom, suburban wife existence for myself.

This pregnancy hasn't been easy for me, mentally speaking. Everyone compliments me on how great I look, that pregnancy suits me, how "glowy" I am. The truth is that my psychological health feels anything but this radiant visage of motherhood I appear to be. Between having to alter my depression and anxiety medications, the heat of summer making outdoor exercise nearly non-existent (a huge part of my holistic well-being), to mothering my smart and spirited 2-year-old daughter through the fog and fatigue of pregnancy (a feat only accomplished thanks to endless hours of Paw Patrol on repeat), I have felt the steady creep of negative thought patterns enter into my psyche. Especially with another child on the horizon, I feel cemented in this idea that this is it. Diapers, playdates, mini-vans, PTA meetings — the next 20 years laid out nicely in a pre-packaged box that says, "American Dream!"

I am grateful and happy for the life I've built, despite the bleak picture I've painted. Yet, I still struggle with that voice — the one that says I'm not worthy, but then tells me how much potential I wasted, how I could have been something more, someone more than "just a mom."

I find this to be especially true when faced with the opportunity to collaborate on this newsletter. Am I deserving to have my name attached to something created by my wildly successful, inspiring friend? What can I possibly offer that she couldn't find from another driven and respected colleague? Why should I bother when I already grapple with finding the energy and time to be an attentive wife and mother?

Certainly, I would do anything to help Katie. And I have to trust she asked me to edit this newsletter for a reason. But I'm also doing this as a way to tell my "dumb" brain to shut up and believe in me sometimes. This is an opportunity to embrace that I still have a talent for writing and editing, even if I don't have an online portfolio or fancy CV; to trust that allowing my kiddo a little extra screen time does not make me "Worst Mom of the Year;" to be patient with myself as I navigate postpartum life after my son arrives; to love who I am and value my strengths in spite of my weaknesses.

I am human, after all.

(Addendum from Katie: a pretty awesome, talented, and caring human, too.)

Becca xo
---
Good job, brain
I'm currently reading: The Stone Sky: The Broken Earth, Book 3 by N.K. Jemisin.

I'm currently inspired by: This snarky list of things all moms should do in the fall.

I'm currently aiming to: Find a safe, but foolproof way to induce labor — y'all got any tips?
Additional resources
For your sweet dumb brain
Not too long ago, a sweet friend sent me a card (yes, a physical card via snail-mail!) just to say that she thinks I'm doing a great job as a mom and that she appreciates my openness to talk about mental health. Truly, it made my whole week!

Make an effort this week to reach out to a person in your life and just say, "Hey. You're wonderful!" Don't have stationary and a stamp? Shoot a quick text! It's a small gesture, but takes little time and has real impact; you never know who really needs to hear it.