Good, thanks for asking!
I'm happy, and that makes me uncomfortable.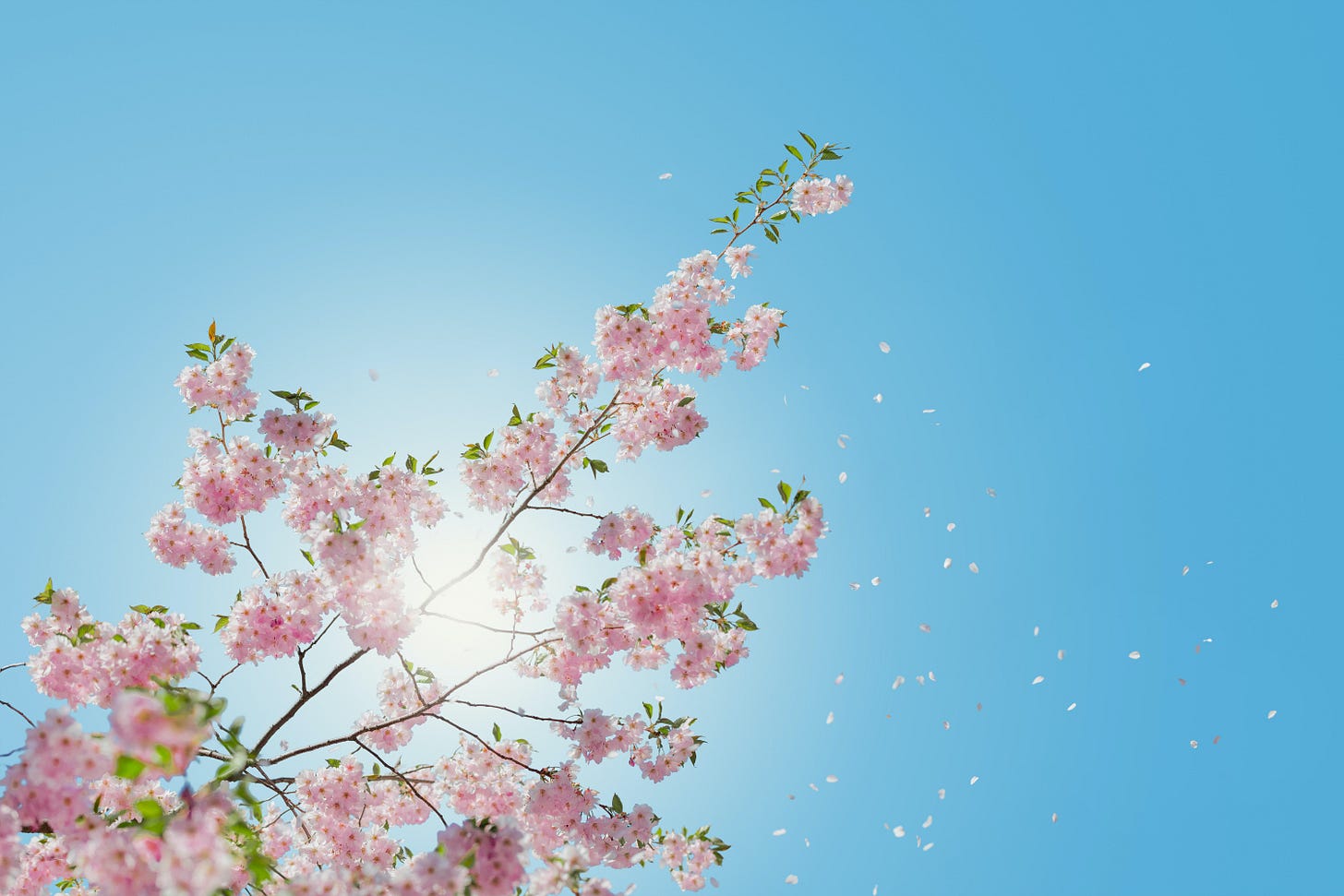 For nearly two years, my answer to "How are you?" has ranged somewhere between "Not great," and "Pretty awful." On some days, it felt like an affront to be asked such a question.

Lately, though, my answer has been a simple, "Good!"—which isn't that simple after all.

My cheerful response tends to surprise and fluster me. I feel compelled to explain myself—my happiness doesn't mean I've forgotten about my dead husband!—or joke about how awkward it is to feel good again. I'm too self-conscious to let my answer stand on its own.

But it's true: things have been good. My first freelance article received lots of positive feedback, including a shoutout from Sheryl Sandberg (!). I have other articles in the works, I'm becoming more confident pitching myself, and writing a book someday seems increasingly possible. Things outside of work are good, too. My partner and I have moved in together (!), and I'm feeling physically and mentally healthier than I have in a long time.

I'm happy. And that makes me really uncomfortable.

The night before Jamie died, we were both in good moods—we were sweet and funny with each other as we got ready for bed. He left the house early the next morning for that fateful half marathon. I arrived to the course later on and cheered as he passed the halfway point of the race. That was it. The next time I saw him, he was dead.

I feel uncomfortable being happy because I was happy in the hours before Jamie died. I feel uncomfortable being happy because survivor's guilt tells me I don't deserve it.

As you can imagine, this is a big topic in my weekly therapy sessions. Traumatic events can lead to all-or-nothing thinking patterns—a way of viewing life in extremes. Because I've replayed Jamie's death and the moments leading up to it so often in my mind, my brain has grown accustomed to associating happiness with misfortune.

I wrote earlier this month about the fear of failure, but I'm starting to realize that I might be more paralyzed by the fear of success. Success—and the happiness that comes from it—is well outside the comfort zone I've built for myself over the past two years.

I've been doing a lot of soul-searching in response to my "Good!" discomfort, and I've since uncovered a painful truth: Since Jamie died, my comfort zone has been mired in sadness. It's a comfortable place to be, admittedly. When you're sad or lonely or hurting, you tend to receive more sympathy and support. People worry about you. You have an excuse not to succeed. When you're in a good spot, you're less likely to be on someone's mind or the recipient of benevolence. You're on your own.

It doesn't take a major loss to experience the discomfort of happiness. If you're a negative self-talker (something I'm guilty of, and forever working on), being happy or successful doesn't fit into the narrative you've long told yourself. As Dr. Lisa Firestone explains, our negative self-perception can be "like a heavy blanket ... familiar, comfortable and safe."

Instead of retreating to the safely of my sadness, I'm striving to embrace the discomfort I'm experiencing, find gratitude for the happiness I'm feeling, and look for ways to stay grounded as I adjust to this new normal. (And, of course, to accept that things can and will fall apart at some point.)

Life is good right now. I'm finding my own path as a writer, taking care of my mind and body, and nurturing a promising relationship. I'm capable of building a new life while honoring the past. I am successful, and deserving of the happiness that I feel.

It's sort of troubling how difficult it was for me to write that last sentence. Saying it out loud is even harder. But that's what I'll do. I'll repeat that mantra until it rings true. And the next time someone asks me how I'm doing, I'll reply without explaining myself.

xoxo
KHG

p.s. If you're enjoying My Sweet Dumb Brain, please forward this newsletter to a friend and encourage them to subscribe. You can also share this issue on social media. And if you have questions (about life, loss, anxiety, whatever), ask me! Thank you for reading and being part of this community.
---
Good job, brain
I'm (re) reading: You Are a Badass, by Jen Sincero. Yes, still!

I'm currently inspired by: Morning walks. I've been taking a long walk every morning, and it's helped me to start my day with a clear mind and an energy boost. Highly recommended!

I'm currently aiming to: Make more FaceTime dates with loved ones. I got to catch up with my friend Hannah last weekend, and it put me in a good mood all day.
Additional resources
It's been 10 years since Gretchen Rubin published The Happiness Project, but her lessons still stand today. As far as self-help books go, this one is a good mix of pragmatic and inspirational. (Bonus: Here are seven other books on happiness.)

"Human beings have something that we might think of as a 'psychological immune system' — a system of cognitive processes, largely non-conscious cognitive processes, that help them change their views of the world, so that they can feel better about the worlds in which they find themselves." Dan Gilbert on the science of happiness.

The subject of today's newsletter is a reference to the wonderful podcast Terrible, Thanks for Asking.
For your sweet dumb brain
What does your comfort zone look like, and how is it holding you back? Now, think about the thing you need to tell yourself that can help you redefine your reality. Write that mantra down. As a reminder, here's my current mantra:

I am successful, and deserving of the happiness that I feel.

If you're comfortable doing so, reply to this email and send me your personal mantra. (I'll keep them anonymous.) I'd love to share some of your responses next week to show other examples of the things we're saying in order to love and support ourselves.
---
My Sweet Dumb Brain is written by Katie Hawkins-Gaar. It's edited by Rebecca Coates. Photo by Anders Jildén on Unsplash.