Discover more from My Sweet Dumb Brain
A newsletter about facing life's ups and downs, all while being kind to yourself.
Over 13,000 subscribers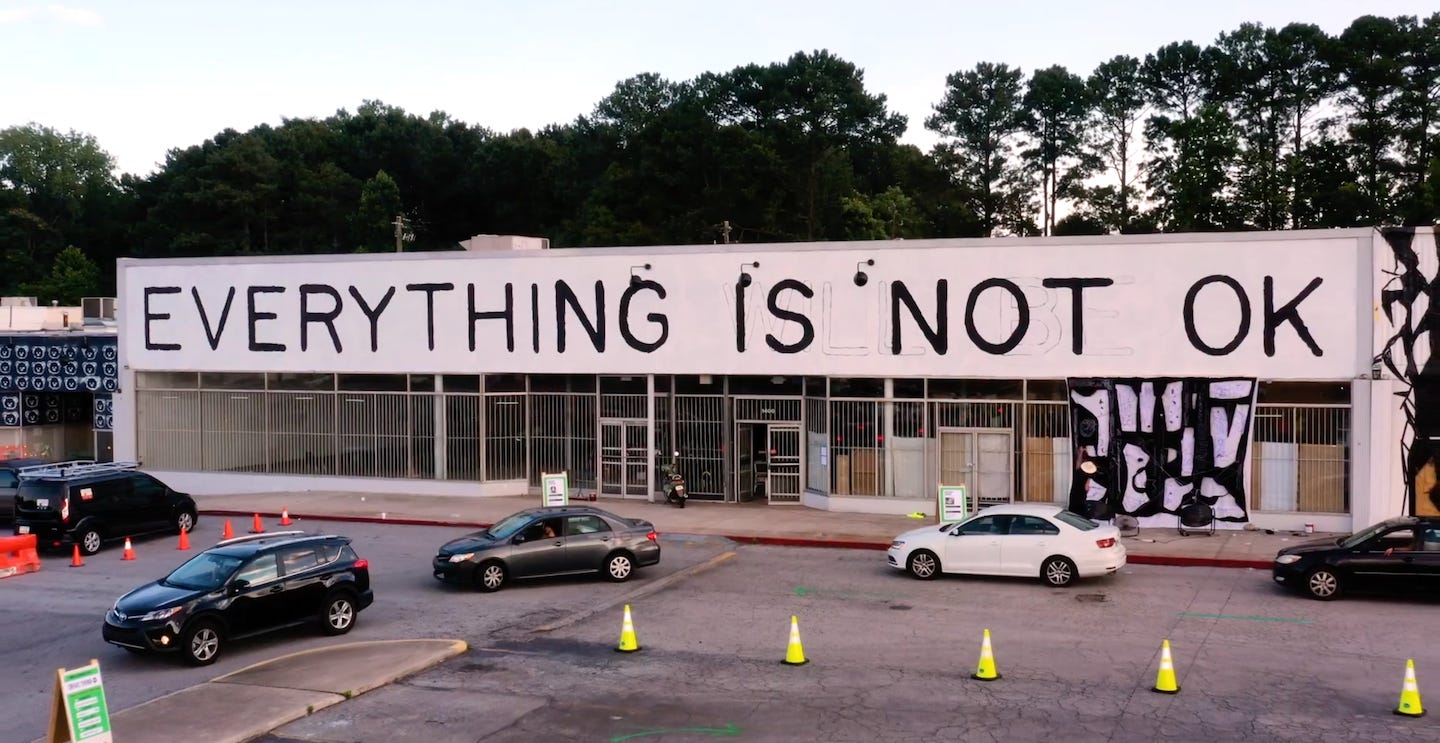 In 2009, Atlanta artist Jason Kofke put up a large message on the side of an old smokehouse in Dunwoody, Georgia. The sign was simple, with black hand-lettered text on a white background, and the message stood tall: "Everything Will Be OK."
People loved it. The sign became a popular spot to take photos, and residents petitioned for it to remain permanently. More than a decade later, in March 2020, the slogan started popping up on yard signs across Dunwoody—a rallying cry against fear of the coronavirus pandemic. 
Then the mood shifted. On May 25, George Floyd was killed by police in Minneapolis, sparking outrage across the country. Floyd's death was another tragedy on top of one too many tragedies—another example of how terribly broken things are. People were angry, not only about Floyd's death, but about how Black people are routinely targeted by police. Mask-clad protesters filled streets in cities and towns around the world, demanding change and bringing light to issues like police brutality, systemic racism, and racial injustice.
On June 1, Atlanta resident Margaret Wright Boylan posted an Instagram photo of her altered yard sign, which now read, "Everything is Not OK." She made her changes in bold red paint, adding the slogan, "Black Lives Matter." Kofke saw her Instagram post and commented, "Nice edits. I approve."
Not long after, Kofke painted a mural for Drive Thru ATL—a creative approach to an art exhibition in the era of coronavirus and social distancing. Drivers could see the outline of Kofke's original slogan, but his main message was new: "Everything is Not OK."
I aim for this newsletter to be a source of inspiration. I'm a relatively optimistic person and, more importantly, I personally know how invaluable hope can be when life feels especially terrible. More often than not, I try to end my essays on a positive note, giving readers the encouragement they might need to get through a tough time.
Sometimes, though, it's a lot harder to see the love and goodness out there. Sometimes it feels like the news is filled with nothing but examples of hate and cruelty. Sometimes, whenever I write another hopeful essay, I feel like I'm fooling myself. On those days, it feels like Boylan and Kofke are right: Things are definitely not OK.
At the end of June, I took a two-week break from social media. I deleted Instagram, Facebook, and Twitter from my phone, and made a promise to myself not to post anything during that time. Before long, I felt calmer. I was less anxious and less overwhelmed by things I couldn't control. I had more free time, too. Instead of scrolling through various feeds, I now used that time to do rewarding tasks like reading a book, working on the baby's nursery, or catching up with friends.
My break from social media felt good. When I spend less time on my phone, I feel better and lighter. Still, I couldn't help but wonder if blocking out the noise meant I was living life like an ostrich—sticking my head into the sand, trying to ignore all the scary stuff around me.
I did find sustainable ways to stay informed without social media—reading the Tampa Bay Times' morning newsletter, listening to NPR updates on walks, and logging onto the New York Times app in short bursts—but there were still important things I missed by being largely offline. I was curious about what articles and memes people were sharing, what topics people were talking about, and, most importantly, what was happening in my friends' lives. Social media has always felt like a bit of a necessary evil, but never more so than now, when we can't connect with loved ones in person like we used to.
Admittedly, there were some points during that two-week hiatus when I'd peek at Twitter or Facebook, and inevitably be walloped by bad news. Another small business was closing its doors. A friend lost a spouse. More job layoffs and furloughs were announced. Parents were stressed out about whether or not to send their kids back to school. And in Florida, where I live, coronavirus cases kept skyrocketing.
I'd scroll a bit, feel my anxiety start to rise again, then close the window. Everything was not OK.
I knew that ignoring the outside world wasn't the right answer, but I was torn. Whenever I stayed off social media and remained in my bubble, I could convince myself that things were going to work out just fine. I found plenty of reasons to appreciate the slowed-down pace of life, and felt cautiously optimistic about the future. But when I logged back on, I became overwhelmed by the general angst and discord on my feeds. Practically everyone seemed worried or angry about something—and rightly so. Before long, I'd be right there with them, feeling furious about it all. 
So what's really going on? Is everything going to be OK, or is it not?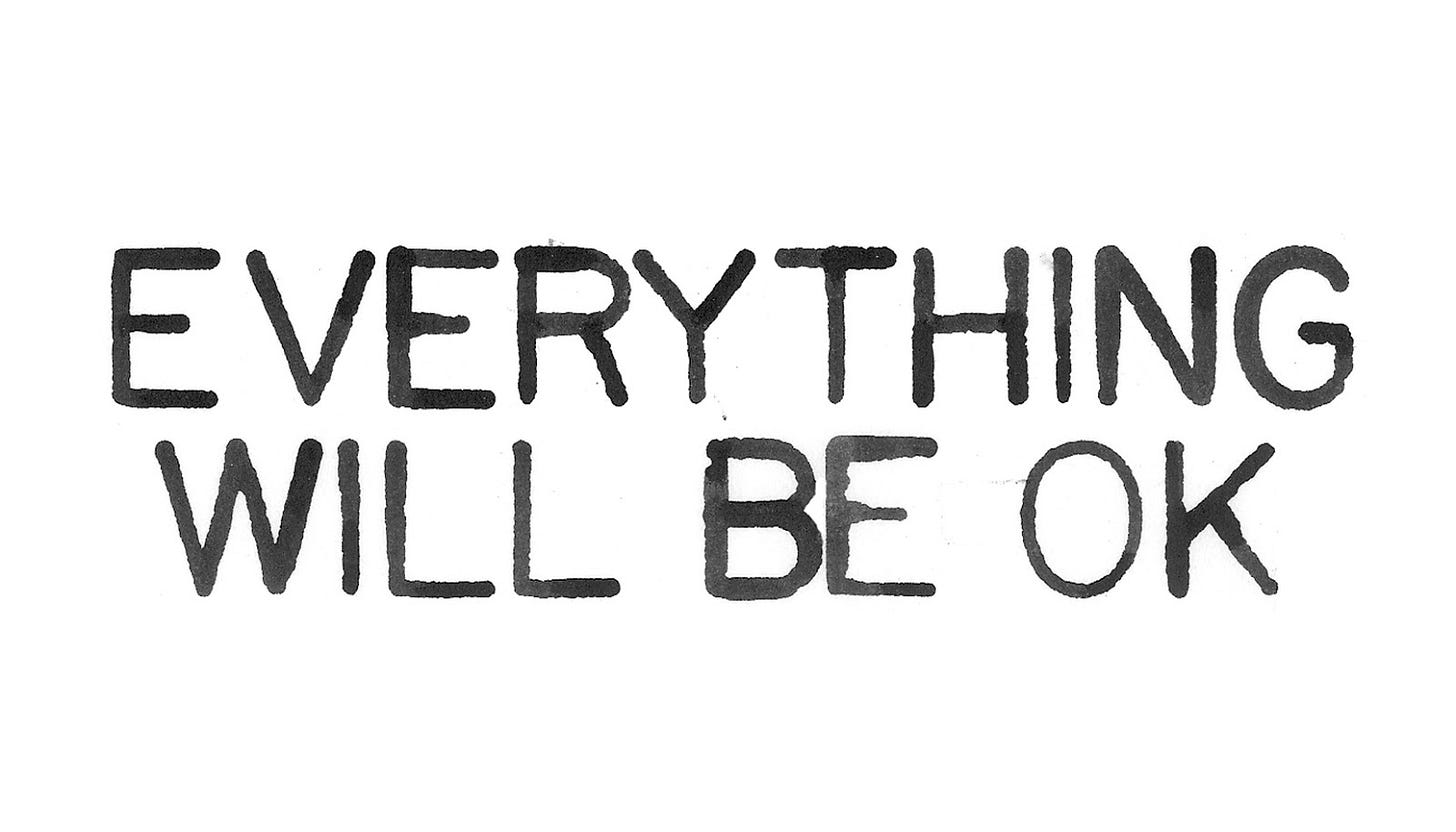 I decided to reach out to Kofke to get his take. Over the past decade, he's installed his "Everything Will Be OK" project in various contexts around the world, and designed it "to remain constant and unchanging, despite inevitable contextual and social change." But by the time he started working on the Drive Thru ATL installation, Black Lives Matter protests had reached a fever pitch in Atlanta and across the country. This time, Kofke went with a new message.
"My two most important ideas on art and society clashed, and I decided it was more important to react as a member of society rather than a visual culture researcher," he said. "I decided to change the design because my sense of hope for the changes that will [improve] our society outweighed the parameters I established in the 'Everything Will Be OK' experiment," he said.
Today, Kofke is traveling the Midwest, putting his original message in far-flung places like South Dakota. "If done properly, what 'Everything Will Be OK' means to me should not matter," he said, explaining that the message is meant for the viewer and their interpretation. 
"My goal is to create a design that rejects a promotion or advertisement of a product or idea and instead asks the viewer to accept or reject a mindset," he explained. "To me, 'Everything Will Be OK' is about offering the viewer a greater degree of self-awareness."
So, I guess it's on me—as the viewer—to decide what those messages mean, just as it's on you. Personally, I believe both of those things can be true. Right now, everything is decidedly not OK. At the same time, I have faith that everything will eventually be OK. I have no choice but to believe that.
The past few months have been a strange time for all of us. We are living through a pandemic, and also witnessing a period when some much-needed social change is slowly but surely starting to happen. Whenever I do pick up my head from the sand, I see both of those things—the anxiety and the hope, all mixed up. I am reminded that life is complicated, ever so now, and that we are lucky to experience all of its complexity. It might seem odd, but most days, I feel good about bringing a baby into this complex world. She's going to learn and see—and hopefully help change—so much. 
And there I go again, ending an essay on an optimistic note! Maybe it's because that's what we need right now.
xoxo,
KHG
---
Art will get us through
Art has always played a big role in my life, and I've long turned to it during difficult times. I want to hear about the art that's helped you.
Tell me about a piece of art—a visual piece, show or movie, song or album, or written work—that's guided you in hard times. Is there a certain poem that's helped you make sense of life lately, a go-to heartbreak song, or a TV show that's brought you some much-needed comfort? Do tell!
Share your responses by replying to this email, leaving a comment, or sending me a message. I'll compile some of your best replies in Thursday's subscriber-only newsletter.
And if you're not a paying subscriber, you can still share your perspective! If I use your response, I'll be sure to forward along Thursday's newsletter so you can read it.
---
My Sweet Dumb Brain is written by Katie Hawkins-Gaar. It's edited by Rebecca Coates, who is not OK, but knows she will be again, eventually. Photos courtesy Drive Thru ATL and Jason Kofke.
Want to support this newsletter? You can subscribe, tell a friend about it, send some monetary gratitude via Venmo (@Katie-Hawkins-Gaar), or hit the heart button at the top of this post. It all helps!