Discover more from My Sweet Dumb Brain
A newsletter about facing life's ups and downs, all while being kind to yourself.
Over 13,000 subscribers
A week's worth of grief journaling
"I don't recognize my life right now."
Hi friends,
This is an especially busy week for me, which is why I'm trying something different with today's newsletter. I recently revisited some journal entries I'd written this same week in 2017. At that time, I was less than a month out from Jamie's death and nearing the end of my bereavement from work. Although reading these posts can sometimes be sad, it mostly makes me feel good about how much I've grown since then, and comforted by the bits of clarity I found so early on in the grief process. Little did I know then that my regular journaling would ultimately spark a passion for writing about navigating grief, anxiety, happiness, and everything in between—eventually leading to this newsletter. Now I'm sharing those early thoughts and feelings with you.
The journal entries have been shortened and edited lightly. Thanks for letting me experiment! I'll be back on March 3 with a regularly scheduled essay.
xoxo,
KHG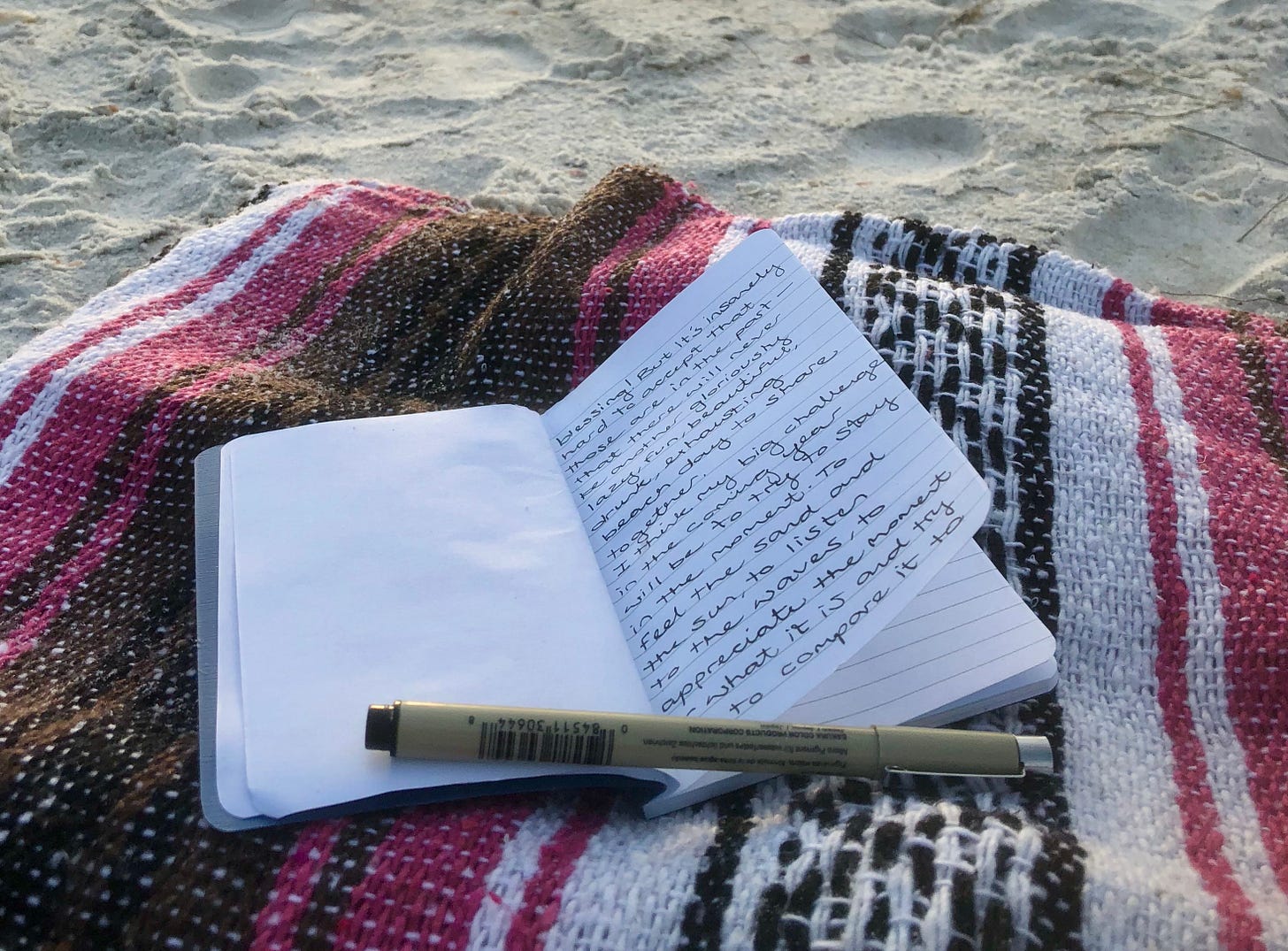 2.24.17
It's been 20 days. Twenty days seems like it should feel like a long time, but it feels like the race was just yesterday. It feels like I was just in the hospital, processing that Jamie might not survive, much less that he didn't. 
I'm not entirely sure how I've spent the past 20 days. The first 10 were spent planning, having, and recapping the memorial services. The next few were spent returning to Florida, returning to reality, starting to take stock of all the things I need to figure out and take care of. And these past few days have been hazy—I've been sort of busy, but mostly putzing around, taking it moment to moment. I've been watching a lot of Parenthood too. It helps me to cry.
I've spent a lot of time with friends, who have been spending a lot of time with other friends, and everyone reveals to me that they've cried, and others have cried, every single day. Even people I haven't met have reached out to tell me they've cried more than they expected. 
As weird as it is, everyone crying is such a wonderful comfort. If others are still struggling with grief, then maybe they will be able to understand why I'm falling apart months from now.
2.25.17
I've made French-press coffee the past two mornings. It's not very good. Yesterday's was almost undrinkable and today's was better, but still pretty watery. The coffee is from a Michigan roaster who sent a gift basket after learning about Jamie's death. 
They met him once. Jamie made enough of an impact for them to send me a note and a basket full of coffee and snacks. 
I'm Googling everything I can and asking friends for advice, but my attempts at coffee are still nowhere near what Jamie used to make. I keep thinking that I'm practically wasting this generous coffee gift with my limited skills, but then I think that Jamie would be proud of me all the same, and I feel sad and happy all at once.
My Atlanta friends Patryk and Madeleine arrived yesterday. They booked their tickets months ago and decided to keep their travel plans. Throughout all of yesterday afternoon and evening, it felt like Jamie was at work, or in the bathroom, or talking to someone inside at the bar, and any minute now he'd come join us at the empty seat at our table. I was simply entertaining our guests in the meantime, and sooner or later, he'd return and take lead of the conversation.
This whole world is set up for pairs and even numbers. Everywhere we went, we'd be at a table with one empty chair. Later, I thought about suggesting playing a game but wasn't sure what games we own that could work for three people. It's something I've never noticed, really. 
I think about all the times I've been closed-minded and felt bad for single people, and then I realize I am one of those people.
2.26.17
Patryk, Madeleine and I had a pretty busy day yesterday. At least, much busier than I'm accustomed to lately. We walked to The Avenue for lunch, then to the movie theater to see Get Out. I'm always a wimp when it comes to horror movies, and was feeling especially anxious about this one because I was worried it might trigger some latent trauma that's lingering in my head, but I knew the movie had amazing ratings and it was one Jamie and I planned to see. I had to go.
I'm so glad I did. Not only was it great, but my friends—Patryk, Madeleine, and John, who joined us for the show—got to witness the spectacle that is me screaming loudly during a scary movie and the rest of the theater giggling. It's an experience that Jamie and a few other friends have beheld, and he loved to tell people about how funny and great it was to watch horror movies with me. 
Jamie would have loved the movie, too. We all went to a bar afterward to talk about Get Out, and I kept imagining what Jamie would have to add to the conversation. It's getting harder to pretend that he's just busy and not around, and even harder to accept that he's never coming back.
The only way I'm getting through each day without descending into a dark pit is by staying grateful. Instead of feeling devastated that Jamie is gone, I feel thankful for all the beautiful years of marriage we shared together. When I start to get exhausted by friends, I remind myself how lucky I am to have so many people that care about me. If I worry that I will never become a mother or will die alone, I recall and savor the dreams that Jamie and I shared for the future. 
Doing this feels foreign. I seriously don't recognize myself. But it works. Allowing myself to feel sorry for my situation gets too depressing way too quickly. It's a dark and slippery slope. So for now, I am staying as grateful as possible and keeping busy—marveling that I've made it yet another day.
2.27.17
The Oscars were last night. I hadn't fully prepared myself for how emotional that would be. I've watched the Academy Awards with Jamie for years now. We'd sometimes let ourselves indulge in fantasies about walking the red carpet together—Jamie as a Best Director nominee, me as his incredibly proud date.
I wasn't the only one missing Jamie last night. Not long into the broadcast, Manav texted me. When we all still lived in Atlanta, we'd dutifully watch the Oscars together. Jamie and Manav somehow managed to turn it into a competitive sport. "This ain't right without Jamie," he messaged. "He was the only fucker who knew the difference between sound editing and sound mixing."
I found myself trying to figure out what Jamie would say about each movie and moment in the show. He thought Moonlight was wonderful, and wanted me to see it with him. He would have been thrilled that it won Best Picture.
La La Land was the last movie we saw as a couple, and while it didn't blow us away, its ultimate message—that dreams don't always work out the way you imagined—was powerful enough to warrant some excellent post-movie beer conversation. He'd be thrilled that it didn't win Best Picture.
He would have completely lost his mind over the Oscars' twist ending. I could so easily imagine him shouting and laughing when the mixup happened, followed by his obsessive social media scrolling into the wee hours of the night.
But more than any other movie last year, he adored Arrival, and tried to convince countless people to read the tale it was based on—Ted Chiang's Story of Your Life. It's a story that, at its core, is about deciding to make joyful, life-altering decisions even when you know they'll end in heartbreak. It's a story that I need to absorb now more than ever.
2.28.17
I don't recognize my life right now. I am a widow. Suddenly, the person who I spoke to every single day for a decade is gone. The man who I shared my biggest dreams and deepest anxieties with is no longer here. The husband who saw me at my worst and most vulnerable and at my best and most caring isn't on this Earth. My other half has disappeared, and I now have to figure out on my own how to become whole again.
I also don't recognize my life because the weirdest shit keeps happening to me. Yesterday, after I spread Jamie's ashes at Lassing Park, I came home, grabbed a beer, and sat on my porch bench to think. Minutes later, I heard a baby cooing and saw a young man with dreadlocks pushing a stroller, with a boy walking alongside him. The man stopped in front of my house and started complaining about his heart racing.
He asked for water, so I went inside to fill a cup, and tried to calculate what to do in this situation. By the time I came outside, he was crouched on the sidewalk. I handed him the cup of water over my front gate and started talking to him. He told me how he lived in a shelter, was dealing with financial strain, and was struggling with reality. He kept saying, over and over, that his heart was beating so fast. It was hard for me not to flashback to Jamie's death.
I told him that I was sitting on the porch because I felt anxiety coming on, too. I told him that my husband had died a few weeks ago, and that I also didn't have the best grip on reality. I shared that, for me, staying in the moment has been the very best thing. Taking one step, then another. I walked him through taking deep breaths and talked about how sweet and healthy and happy the two kiddos seemed. I made him tell me where he was going (the shelter) and how to get there (not much farther).
By this point, my friend Ren, who was headed over after work to share a porch beer and to help me with my own troubles, walked up to the scene. I explained what was going on, and he helped talk to the man too. Eventually, the man calmed down, stood up, took a big gulp of water, told us we "have great energy and are good people," and continued on his way. 
Then, this afternoon, an elderly woman stopped me on the sidewalk. I was in downtown St. Pete, and instead of getting a ride home with a friend from lunch, I opted to walk. The woman asked if I could help her cross the street. She grabbed my hand, and we walked slowly across the intersection. Several drivers missed their green light, but people were patient, probably because an incredibly sweet and cliche situation was actually taking place in front of them. She told me I was tall and nice and made her day a little better.
How often do those situations happen in real life? How often do you interact with people who need help two days in a row? How often are you reminded, when your world is turned upside down, that other people are struggling too? 
I don't know what to make of it. I flinch anytime someone suggests that there's a reason for everything, because I cannot reconcile—and never will—that there is a purpose to Jamie's death. 
I do believe, however, that we see what we choose to in the world. And sometimes, it seems, we see what we need to. For most of my adult life, I would see everything through a negative lens. It's one of the first things Jamie noticed about me, back when we were new friends. I'd tell stories that were incredibly self-deprecating and filled with exaggerated descriptions of how terrible a particular moment was, or how horrified I felt when I made a certain mistake. Jamie later pointed out that while, yes, these stories were funny, they also illustrated how I looked at the world—I didn't trust others and didn't recognize my value.
Right now, when I have all the reasons in the world to not trust others and to feel like I am unloved, I am being bombarded with people who want to help and people who need help. Since Jamie died, I haven't gone an hour without someone checking in. And now, strangers are coming into my life in the most bizarre and meaningful ways. I don't know what to make of it, and I'm not entirely sure there is anything to make of it, but my eyes are open.
---
This newsletter is written by Katie Hawkins-Gaar. It's edited by Rebecca Coates, who was a real champion of a friend back in 2017, and is still the best pal I could ask for today.